Duncan Honeybourne as Artistic Director
Duncan has created and directed several concert series in Dorset, Herefordshire, and West Sussex.
Weymouth Lunchtime Chamber Concerts
Duncan founded the Weymouth Lunchtime Chamber Concerts in 2002 in his home town in Dorset, giving the first few recitals himself and with friends and colleagues. He remains Artistic Director and a regular performer, partnering many distinguished colleagues in chamber music and welcoming outstanding young artists, while still giving an annual solo piano recital. Originally held in the Weymouth Arts Centre on Weymouth harbourside, the series moved to the beautiful Georgian setting of St Mary's Church after the Arts Centre's closure in 2004. The Wednesday lunchtime concerts take place once a month from September to June, and further information, including a detailed history of the series, may be found on the Weymouth Lunchtime Chamber Concerts website.
Concerts in Leominster, Herefordshire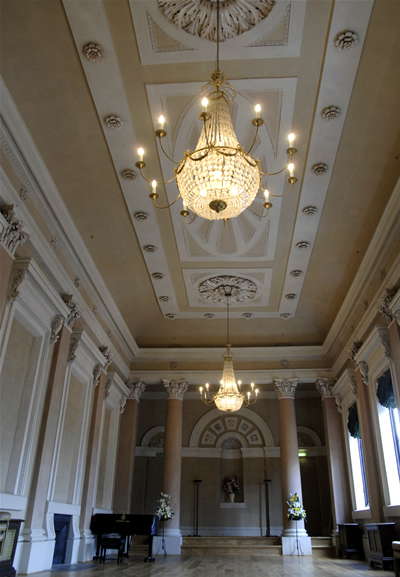 For eight seasons between 2008 and 2019, Duncan also ran his own Sunday afternoon concert series in the beautifully restored Lion Ballroom, a centre for the arts in the Welsh border market town of Leominster, Herefordshire. In 2008-09 he presented a 7-part survey of the piano repertoire, Masterworks of Piano Music, and between 2011 and 2014 he gave three seasons of Piano Plus concerts. These featured themed programmes traversing a wide repertoire. Among the chosen themes were Russian, Scandinavian, French, Czech and American piano music, lecture recitals highlighting individual composers and explorations of nocturnes and sonatas. Duncan was also joined by "guest" colleagues for a range of chamber music combinations. The series relaunched in 2015 as Piano Portraits, highlighting solo piano repertoire and running for a further four years. Having given over 50 recitals in this stunning venue, Duncan gave his last Piano Portrait recital in June 2019.
As part of his Leominster series, Duncan gave his first solo harpsichord recital in the Lion Ballroom in June 2016, with a second the following year. The remarkable Leominster-based musicians Alan and Maureen Crumpler, eminent pioneers of early music, encouraged Duncan's developing interest in the harpsichord, making instruments available and providing generous support for the concert series. In his role as recording producer, Alan recorded many of the Sunday afternoon concerts and and produced two solo CDs for Duncan, both recorded on the Steinway piano resident in the Ballroom until 2014. A disc of English piano music by Moeran and Howells was issued in 2010 and has been broadcast extensively, and a second disc of piano music by Schubert and Schumann was released on Alan Crumpler's own Forbury Records label in 2015. Duncan remains deeply grateful to Alan and Maureen for their support and friendship, and to all his friends and loyal audiences in Leominster over so many years.