Duncan Honeybourne is well-known as a lecture recitalist specialising in the piano and chamber music of British and Irish composers. His imaginative programmes have championed many neglected works, often presented in a fresh and interesting light. This page takes a look at some of them.

---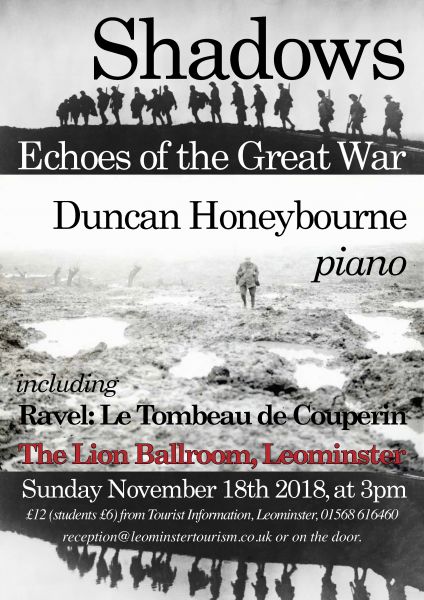 Shadows: Echoes of the Great War
A commemorative programme presented throughout Britain in 2018
Devised to commemorate the centenary of the Armistice that ended the First World War, this programme was woven around Ravel's captivating suite Le Tombeau de Couperin, each of its six dance movements inscribed to the memory of a friend killed in this 'war to end all wars'. Around this thread it delved into the works of composers who served, lost their lives or were deeply affected by the conflict, and piano music from a later era which reflects on those turbulent years and the War's shattering cost to humankind.
Shadows featured piano music by Ernest Farrar, Cecil Coles, E.J. Moeran and William Baines, plus a dash of Spanish romanticism from Enrique Granados and Michael Berkeley's magical triptych Strange Meeting, inspired by Wilfred Owen's poem of the same name. Sadie Harrison's piano cycle Shadows, written for Duncan in 2013, gave its name to the programme.
A Portrait of John Ireland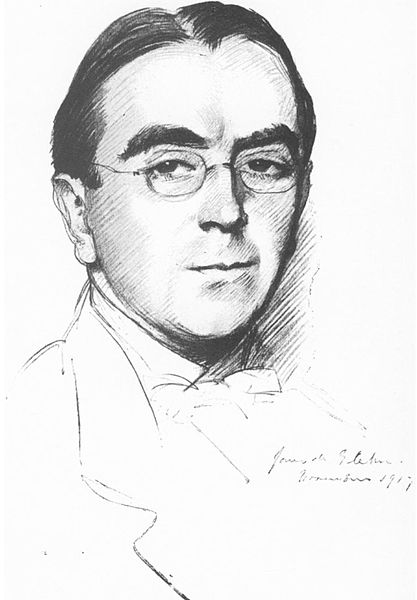 Duncan created this programme for performance in 2012, the 50th anniversary year of John Ireland's death. The recital told the story of one of the most significant English piano composers of the twentieth century, a powerfully individual creative artist whose strong sense of place and time impacted profoundly on his works. In addition to telling the story of Ireland's life, from his unhappy childhood to his dramatic escape from Guernsey in 1940, Duncan played some of the composer's most significant piano works, setting them in the context of Ireland's unique personality and enduring enthusiasms, especially his interests in paganism, prehistory and literature, and his attachments to the landscapes of the Channel Islands and the Sussex Downs.
The Piano Music of Moeran
This lecture recital explored the richly romantic and picturesque piano music of Ernest John Moeran (1894-1950). Born of an Irish father and English mother, this enigmatic composer was strongly aware of his dual heritage. A countryman at heart, the landscapes of Norfolk and Ireland were to exert a strong influence upon his artistic personality, whilst his passionate sense of commitment to rural dwellers was to fuel extensive folk song collecting expeditions on both sides of the Irish Sea. The peace of the countryside was vital to Moeran's compositional processes, and he sought solace in the Welsh border landscapes of western Herefordshire and, increasingly, in Ireland, where he found a spiritual home and was able to unravel the complexities of his mature artistic identity. Moeran lived increasingly in County Kerry during the last years of his life, dying there suddenly in 1950. He lies buried in a picturesque spot near Kenmare, where the inscription on his tombstone reads: "He rests in the mountain country, which he loved so well". Duncan Honeybourne has taken a great interest in Moeran's piano and chamber music for many years and has presented this lecture recital in both the UK and Eire. He gave all-Moeran recitals in 2010 at the University of Limerick and the Cork School of Music to commemorate the sixtieth anniversary of Moeran's death, and to launch his CD of piano music by Moeran and Howells. Duncan's recordings of Moeran's solo piano music have been broadcast worldwide.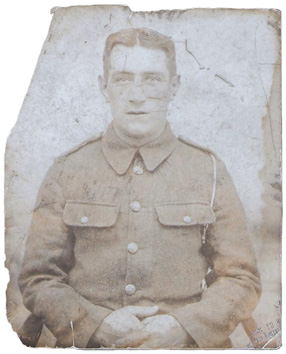 Finished Fields – songs, piano music and poetry from the First World War
Devised by Duncan Honeybourne for performance in November 2008, Finished Fields commemorated the 90th anniversary of the Armistice that ended the First World War. The programme consisted of songs and piano music by composers who fought and perished in that conflict, including works by George Butterworth, W. Denis Browne, Ernest Farrar and Ivor Gurney. A specially-commissioned song cycle by Andrew Downes, Finished Fields (settings of texts by Wilfred Owen), received its first performance in the programme, given by the distinguished young baritone Jonathan Pugsley with whom Duncan has collaborated on several occasions. Duncan also read a selection of First World War poetry and accounts of life in the trenches, including some by members of his own family.
Above: William Augustine Mossop (1884-1917), the great-grandfather of Duncan Honeybourne who died at Passchendaele in September 1917, during the Third Battle of Ypres. His story was told in Duncan's recital programme Finished Fields
Dearest Tania – a portrait of the pianist Harriet Cohen devised and scripted by Duncan Honeybourne
Cohen's compelling story told through her own writings and illuminated by piano works from her repertoire.
This programme was given by Duncan Honeybourne with the distinguished British actresses Louisa Clein and Joanna David and tells the colourful tale of the legendary pianist and glittering society figure Harriet Cohen (1895-1967). The title is derived from the name by which Harriet was known to her intimates and, in compiling the script, Duncan has drawn heavily upon Cohen's highly entertaining memoirs and other writings. The programme was structured to focus upon her personal and professional associations with many of the leading composers of her day, and "Dearest Tania" features piano music by Elgar, Bax, Vaughan Williams, Moeran, Sibelius, Bartok and Chopin.
Harriet Cohen was a radical figure, a forceful and seminal personality as well as being a pianist who broke new ground in her choice of programming and repertoire. She was one of the first players to champion the music of the sixteenth century virginalists on the modern piano and, at the other end of the chronological scale, she was a tireless exponent of the music of her own day and inspired many new works. She provoked devoted love and intense loathing in equal measure, and as an outgoing and opinionated society figure with a vast circle of friends from all walks of life she had plenty to say in her autobiography about many important musical, artistic, literary and political figures. Her contribution to twentieth century culture is ripe for reexamination. Neville Cardus summed up Cohen's role astutely when he wrote in The Guardian of Harriet's memoirs, A Bundle of Time: "This is the autobiography of a most vivacious and forthcoming woman, who took piano playing in her stride and lived intensively every minute of her life in the vibrant if darkening period of our civilisation."
Born in London in 1895, Harriet Cohen studied at the Royal Academy of Music with the legendary Tobias Matthay, one of whose own piano compositions is featured in "Dearest Tania". She belonged to an extraordinary cohort of gifted lady pianists to emerge from Matthay's tutelage (among them Dame Myra Hess), many of whom – like Cohen herself – subsequently became teachers at the piano school opened by the avuncular "Uncle Tobs" in Wimpole Street. During the decade of the First World War she established herself as a pianist and thereafter threw herself into a frantic whirl of professional and social engagements. For many years she toured worldwide as a soloist, promoting new works at every turn and cultivating friendships with leading figures from every walk of life, all these activities being pursued with the same instinctive artistry, directness and flamboyant honesty which characterised her remarkable playing. Dogged increasingly by ill health, not least bouts of tuberculosis and an accident to her right hand (after which her long-term lover Arnold Bax wrote for her his "Concertante for left hand"), Cohen retired with some reluctance, dying in London in 1967. Harriet's copious writings and correspondence chronicle her friendships with such diverse personalities as George Bernard Shaw, Ramsay MacDonald, D.H. Lawrence, Sir Edward Elgar, Jean Sibelius and Rebecca West and serve as a testament to a woman who, in the words of the late Percy Young, "not only made music incomparably well, but in doing so also improved the quality of life".
"Dearest Tania" celebrated the contribution of a remarkable woman, combining the communicative power of words and music to produce a uniquely penetrating insight into some remarkable events and exchanges in musical and cultural history. It illuminated some fascinating times and people with humour, honesty, poignancy and - at times - positive raciness!
Masterworks of Piano Music
Duncan Honeybourne created the series Masterworks in Piano Music in 2006 for the University of Chichester, whilst a Lecturer in Piano there. He devised the seven recitals to chart an exciting voyage through four centuries of keyboard music and to highlight some of the most profound masterpieces of the piano repertoire. "At the same time", he wrote, "each recital constitutes in itself a satisfying whole. It must be stressed that the Masterworks series has been conceived as a journey through seven attractive programmes which can each be enjoyed singly and "dipped into" at will, rather than as an academically-driven, chronologically arranged sequence." Nonetheless, the series constituted a cohesive and rewarding whole, and the seven programmes were greatly enjoyed by staff, students and visitors in the University of Chichester's Chapel of the Ascension on seven Friday evenings during the 2006/07 academic year. Duncan provided brief, illuminating and entertaining spoken introductions to each composer and work.
Duncan Honeybourne wrote of the Masterworks series: "Composers represented include Bach, Haydn, Beethoven, Schubert, Schumann, Chopin and Brahms and, whilst the construction of such a series necessitates a somewhat ruthless selectivity - many great composers and works which could have been included are omitted - the recitals feature many of the most visionary masterworks of keyboard literature, including the Brahms-Handel Variations, the Schumann Fantasy and the Liszt Sonata. Masterpieces of English piano music and from the contemporary repertoire are also included. All one can do in seven recitals is to scratch the bare surface; ideally the programmes should stimulate the inquisitive hearer to further exploration!"
At Chichester the recitals showcased a unique instrument – the historic Centennial Fancy D Steinway piano owned by the University. In 2008/09 Duncan Honeybourne repeated the Masterworks series, this time on a modern Steinway, at the Lion Ballroom Arts Centre in Leominster, Herefordshire.