Rosemarie Wright (1931-2020)
"A real musician among pianists" – Die Welt
Rosemarie Wright was one of the leading British pianists of her generation. Blazing a pioneering trail for British artists abroad, much of her early success was on the continent and, in 1962, The Times noted that "Miss Rosemarie Wright…while living in Vienna for the past seven years…has been able to disprove the general rule that English musicians do not win prizes in international contests – in 1960 she made history by being the first British pianist ever to gain the Bosendorfer Prize of a grand piano, and special bouquets have come her way for her Mozart, Haydn and Schubert playing." But she was no less cherished in her own country where, for 40 years, she was one of the most frequently broadcast pianists on the BBC and, in 1994, BBC Radio 3 gave Wright the rare honour of a special tribute commemorating her four decades of continuous broadcasting. Returning to Britain in 1971, she became a professor of piano at the Royal Northern College of Music and the Royal Academy of Music, and in later years toured the world as an adjudicator and examiner alongside a busy concert schedule.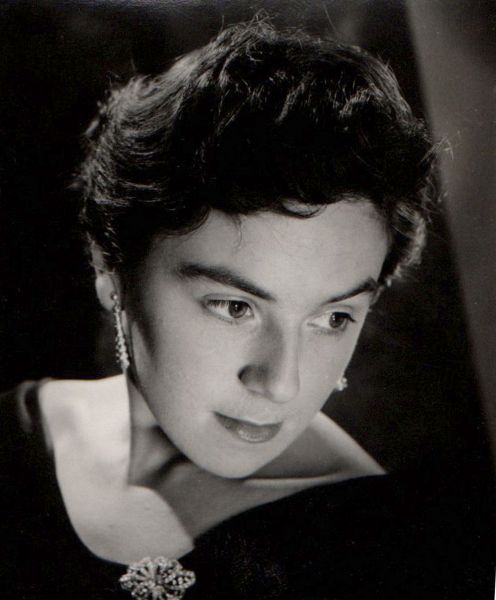 Rosemarie Margaret Wright was born on 12th December 1931 in Coppull, near Chorley, Lancashire, where her father – later to command the first ambulance train sent into France after D-Day - was a general practitioner. After the Second World War her family settled in East Sussex, where she had to make the choice between tennis and the piano, appearing at Junior Wimbledon but enrolling at London's Royal Academy of Music in 1948. There she studied first with Patrick Cory and then with Harold Craxton, winning many prizes including the Albanesi Prize, Kate Steel Prize and the Chappell Silver Medal in 1953. On 2nd June 1954, while still a student at the RAM, she gave her first broadcast recital for the BBC Northern Home Service, playing Bach, Mendelssohn and Rawsthorne from the Manchester studios. Later that year, supported by a Tobias Matthay Fellowship from the Academy, she moved to Vienna where, speaking no German, she set about learning the language with characteristic grit and resourcefulness. At the Vienna State Academy, Wright studied with that renowned pedagogue Bruno Seidlhofer (teacher of a galaxy of brilliant Viennese pianists) and won a special prize for Mozart interpretation as well as gaining her final diploma with the highest honours. She also studied piano with the German pianist Wilhelm Kempff, chamber music with the great cellist Pablo Casals and, between 1954 and 1958, worked extensively with the legendary Swiss pianist Edwin Fischer, who wrote of her: "Each time I listen to Rosemarie Wright she plays better and better, so we can be sure that the magnificent artist in her will come out more and more and bring great joy to her listeners."
In 1959 Wright won the Haydn Prize in the International Haydn-Schubert Competition in Vienna, and Haydn's piano music was to remain a lifelong preoccupation. The following year, the prestigious Bosendorfer Prize brought not only the final seal on Wright's international recognition, but a brand new grand piano as well, direct from Bosendorfer's Vienna factory. The Musical Times remarked that "Viennese critics all acclaimed the excellence of her performance", and Wright was awarded the accolade by eleven votes to one.
In 1960 Wright gave a much lauded debut recital in Vienna's Grosser Musikvereinsaal - the Golden Hall of the famous Musikverein - standing in at an hour's notice to replace an indisposed Martha Argerich. Such was her success that she was immediately offered numerous engagements throughout Austria and Germany, as well as recitals in Switzerland, France, Italy, Portugal, Denmark and Holland. After a recital in Manchester in 1961, The Guardian reported that "Schubert's A minor Sonata was given a gripping interpretation." The following year, after her Wigmore Hall debut, The Times commented that "it was her searching intensity of expression that gave her playing its individuality and distinction."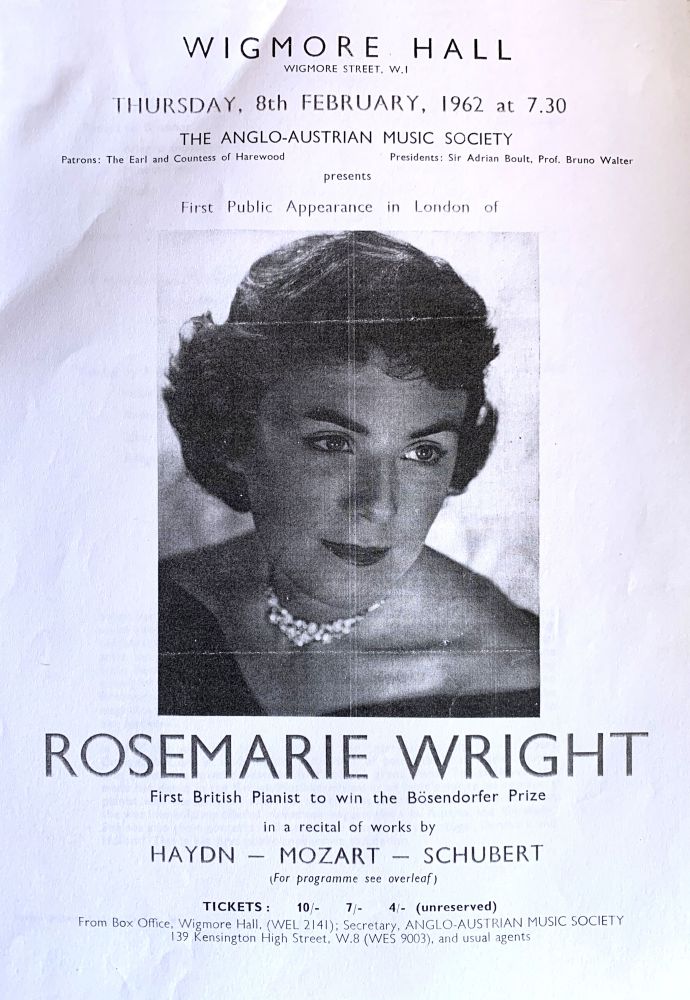 Throughout the 1960s, 70s and 80s Rosemarie Wright toured throughout Europe, the USA, the Far East and Australasia in a wide recital and concerto repertoire, broadcasting from over 30 different radio stations worldwide. She gave recitals at many major festivals including Vienna, Darmstadt and Cheltenham where, in 1966, she gave the premiere of Arnold Cooke's Second Piano Sonata, a work she repeated at the Wigmore Hall in 1985 as part of a concert broadcast on BBC Radio 3. Wright appeared as concerto soloist with the London Philharmonic, Philharmonia, English Chamber Orchestra, London Mozart Players, the Vienna Symphony Orchestra at the Musikverein, and the orchestras of Danish State Radio and Radio France. On tour in Britain and Ireland she played concertos with the Royal Liverpool Philharmonic, the BBC Orchestras, the Bournemouth Symphony Orchestra and Sinfonietta, and during the Ulster Orchestra's inaugural season in 1967. Wright made her debut at the BBC Promenade Concerts at the Royal Albert Hall in 1971, playing Beethoven's Second Piano Concerto with the Philharmonia Orchestra conducted by Sir Adrian Boult.
Intensely industrious and committed to the classical repertoire – she played the complete piano works of Haydn, Mozart and Schubert and all but one of the 32 Beethoven Sonatas – Wright had an extensive and searching repertoire far beyond. She broadcast a huge range of neglected piano music, championed British piano music at continental festivals and gave many world premieres. Wright was an energetic advocate of the sonata by Richard Rodney Bennett, which she worked on with the composer and broadcast for Swiss Radio. Always a sought-after chamber musician, she played piano quintets with the English String Quartet and gave recitals with cellists Georg Donderer and Moray Welsh and violinists Eduard Melkus and Yossi Zivoni, with whom she gave the London premiere of Rubbra's Third Sonata for violin and piano at the Wigmore Hall in 1985 at a concert commemorating the 40th anniversary of the Composers' Guild of Great Britain. She broadcast frequently during the 1970s and 80s in a trio with David Butt and Ross Pople, respectively principal flute and cello of the BBC Symphony Orchestra. Together they gave the first performance of the Anthony Hedges Trio no.1 for flute, cello and piano at Southampton's Turner Sims Concert Hall in 1985, with a BBC Radio 3 broadcast the following year.
Wright's immaculate technique, warmhearted musicianship and diverse repertoire made her a popular choice with radio producers throughout her career. She recorded over 150 solo recital programmes for the BBC alone, and also continued to broadcast for European broadcasting networks well into her sixties. Jillian White, a senior BBC producer with whom Wright frequently worked, recalls "her sincerity and integrity…I remember Rosemarie as being very very conscientious and dedicated to music – a language which we both shared as being a major conduit to world understanding!" White reflects: "I always thought there was a synergy, in tonal colours, that Rosemarie found with her pianistic touch – she had a tender heart…which showed in both her choice of repertoire as well as touch."
In 1984, with Jillian White as producer, Wright made an admired long-playing record of piano music by the American composer Edward MacDowell, followed a decade later by a series of Haydn sonata CDs recorded on an original 1799 Broadwood fortepiano. Her growing interest in the possibilities of the fortepiano demonstrated Wright's enduring appetite for new challenges, as well as the fascination Haydn's music continued to hold for her. She gave many complete series of the Austrian composer's 50-plus keyboard sonatas, broadcasting them worldwide. Later recital tours included the Far East, Australia and New Zealand, where she was frequently invited to give lecture recitals and masterclasses at leading universities.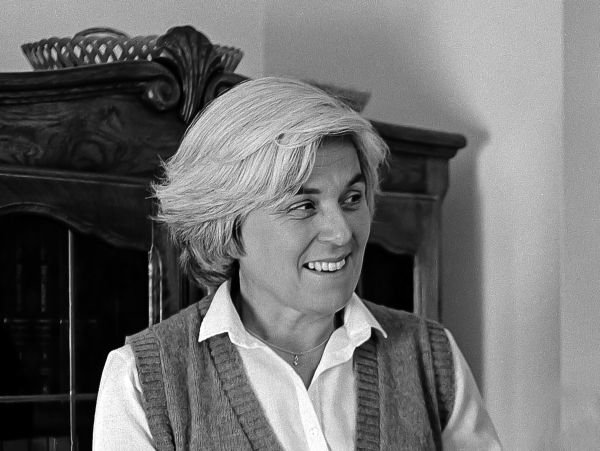 Rosemarie Wright was deeply concerned with the musical education of young people, and she was a devoted and dedicated teacher whose influence, kindly but firm, was widely felt. Quietly insightful and gently probing, her insistence was always on rigorous discipline (she herself practised eight hours a day for decades) and the deeper meanings within the music of the composers she loved. She gave generously and unstintingly of her wisdom, warmth and wit, and her polished technical resources were an inspiration to those in her charge. Nicholas Brown, one of Wright's RNCM students, comments: "I well remember her playing perfectly articulated scales with a pencil over her second and fourth fingers but under the third."
As Pianist-in-Residence at Southampton University from 1972-80, Wright gave the first piano recital in the newly opened Turner Sims Concert Hall in 1974. From 1972-78 she was a Senior Tutor in Keyboard Studies at the Royal Northern College of Music and, from 1978-96, Professor of Piano at her own alma mater, the Royal Academy of Music.
Rosemarie Wright adjudicated numerous festivals and competitions, including the Southern Arts and BBC Young Musician Competitions, and the Hong Kong Piano Competition. She examined for the ABRSM for over 20 years, undertaking many lengthy overseas tours. "Sadly she started to struggle with her hearing", reflects her son Philippe Brandt, "so began to find examining harder and harder. So she went back to her first love of just playing the piano, which she did religiously at home on her beloved Bosendorfer for up to three to four hours a day." Wright was always a gifted and imaginative programme planner and, in retirement, put together many recitals for the Hastings and Rother Voluntary Association for the Blind, playing at Healey House Care Home in Hastings. Given that her advice to her students was always to have a programme "on the go", and that the sharing of the music she treasured was far more important to her than the prestige of the venue, this generosity of spirit was entirely characteristic.
Rosemarie Wright was a kind and loyal friend, quietly witty, self-deprecating and refreshingly direct. Outside music, she had a passion for 19th century painting and, when touring Australia, was thrilled to have the opportunity to see an exhibition of the work of Arthur Streeton, her favourite Australian artist. In her later years she took great delight in the company of her two grandsons.
In 1961 Rosemarie Wright married the conductor Michel Brandt, for many years a Senior Lecturer at the Royal Northern College of Music. She is survived by Michel, their sons Philippe and Christophe, and their grandsons Tom and Freddie.
Duncan Honeybourne
Rosemarie Wright (Brandt), pianist, born Chorley, Lancashire, 12th December 1931, died Hastings, East Sussex, 25th April 2020, aged 88.
BBC Radio 3 broadcast a tribute to Rosemarie Wright on Friday 29th May 2020, at 8.45am, featuring an archive recording of her playing Three Preludes by the Russian composer Lyadov, recorded in 1988.
This article was first published on the MusicWeb International website in June 2020.