Duncan Honeybourne as Artistic Director
Weymouth Lunchtime Chamber Concerts
Duncan founded the Weymouth Lunchtime Chamber Concerts in 2002 in his home town in Dorset, giving the first few recitals himself and with a range of friends and colleagues. Originally held in the Weymouth Arts Centre on Weymouth harbourside, the series moved to the beautiful Georgian setting of St Mary's Church after the Arts Centre's closure in 2004. Duncan ran the concert series for eight years with co-founder Angela Nankivell, a musician of great quality who contributed immensely to musical life in Dorset. Since Angela's death in March 2011 Duncan has been supported by Concerts Manager Jean Shannon, and information may be found on the Weymouth Lunchtime Chamber Concerts website.
Piano Plus at the Lion Ballroom Arts Centre, Leominster, Herefordshire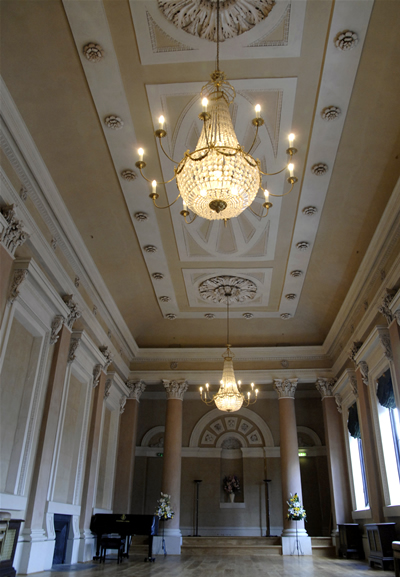 Duncan devised this recital series to showcase the magnificent Steinway piano at the Lion Ballroom, a historic and beautifully restored venue in the tranquil Herefordshire market town of Leominster. Duncan has had a long and fruitful relationship with the Ballroom, and his CD of piano music by Moeran and Howells was recorded there in 2010. Duncan's seven-recital series Masterworks of Piano Music, given in Leominster during the 2007/08 season, traversed a cross section of keyboard masterpieces ranging from Bach to contemporary composers. The Piano Plus series of Sunday afternoon concerts follows a similar format: each recital lasts one hour and is followed by refreshments. Devised and presented by Duncan Honeybourne, the programmes explore a rich range of solo piano music, complemented by a variety of chamber music in which Duncan is joined by distinguished colleagues.
Piano Plus: Leominster 2013-14 season
Tickets for all Piano Plus concerts cost £10 and are available from the Booking Office within Gill's Gifts, Buttercross Arcade, Leominster or by phone on 01568 611588. Major cards accepted. Booking in advance is recommended, however you are welcome to purchase on the door.
Sunday 29th September 2013
In the Old Style
Duncan plays piano music from across the ages which reflects Baroque and Tudor form and style. Programme to include a Tallis Fantasy, Bach's Partita in B Flat, Ravel's Le Tombeau de Couperin, clavichord pieces by Howells and a new Suite Antique by Devon-born composer Luke Whitlock
Sunday 27th October 2013
An Irish Idyll
Duncan explores piano music by two of his favourite English composers, Arnold Bax and E.J. Moeran, both of whom found a spiritual home – and ended their days – amidst the lush pastures and coastal vistas of South West Ireland. Duncan's recording of Moeran's piano music for EM Records was described by MusicWeb International in 2013 as "the best complete recording of Moeran's piano output"
Sunday 24th November 2013
Paradise Gardens
Duncan tells the story of the "John Keats of English Piano Music", the Yorkshire composer William Baines, who died of tuberculosis at the age of 23 having already produced a substantial body of works of touching power and beauty. His deeply sensual language flirts with impressionism and is strongly lyrical and consummately pianistic.
Sunday 15th December 2013
Yuletide Impressions
Duncan plays piano music with a seasonal flavour. Programme to include works by Mendelssohn, Liszt, Lyapunov, Grainger and Holst
Sunday 26th January 2014
Viennese Piano Sonatas
Duncan plays a sequence of sonatas by composers of the First and Second Viennese Schools. Programme to feature the intensely passionate, bracingly chromatic Piano Sonata by Alban Berg, a lighthearted Haydn romp and Schubert's great Sonata in B flat, his final essay in the form and one of the supreme flowerings of romanticism in 19th century music
Sunday 23rd February 2014
Music for Clarinet and Piano
Duncan is joined by clarinettist Mary Ann Bland for a programme of works for clarinet and piano
Sunday 23rd March 2014
Piano Music from Wales and the Marches
To include Richard Francis Fantasy Sonata, Morfydd Owen, William Mathias and Edward Elgar
Sunday 27th April 2014
Reef's End: The Piano Music of Greville Cooke
Duncan turns his musicological and pianistic attention to a mysteriously neglected yet prolific figure. The English composer Greville Cooke combined a professorship at the Royal Academy of Music with a career as an Anglican clergyman, rising to become a Canon of Peterborough Cathedral. Duncan explores his life and work, playing his highly idiomatic, richly expressive and deeply personal piano music
Piano Plus recital programme 2012/13
The 2012/13 Piano Plus season featured the following programmes:
23rd September 2012: A Portrait of John Ireland. Duncan tells the story of the English composer John Ireland (1879-1962) who died fifty years ago, and plays a selection of piano music by Ireland and others to illuminate the tale of this highly individual and significant musical figure
21st October: Czech Piano Music. Duncan plays a selection of piano music by Czech composers including Dvorak, Smetana, Suk and Fibich
11th November: The Rich Heritage of English Song. Distinguished tenor Richard Rowntree joins Duncan to explore the delights of the English song repertoire, of which Richard is a noted interpreter. The programme includes Finzi's Hardy cycle A Young Man's Exhortation, Howells' King David and Gurney's Sleep, a fitting choice for Armistice Day
16th December: Nocturnal Paths. Piano music inspired by night-time, by composers including Field, Chopin, Faure, Britten and Alain
20th January 2013: Music for Double Bass and Piano. Duncan is joined by Irish double bass soloist David Daly, Principal Double Bass of the Bournemouth Symphony Orchestra, with whom he has had a distinguished duo partnership for the last decade
10th February: French Piano Music. A selection of French piano music. The programme includes works by Debussy, Ravel, Faure and Poulenc.
10th March: American Piano Music. Presenting piano works by American composers, ranging from Edward Macdowell to Samuel Barber and Ruth Crawford Seeger
April 28th: Brahms and the Schumanns. Duncan explores the closely connected musical world of Robert and Clara Schumann and Johannes Brahms, playing piano works by all three.
Piano Plus recital programme 2011/12
The 2011/12 Piano Plus season has featured the following programmes:
September 25 2011: Russian Piano Music – Duncan plays music by Tchaikovsky, Rachmaninov and Medtner
November 13th: Music for Clarinet and Piano – Fiona Cross, one of Britain's leading clarinettists, joins Duncan in works by Ireland, Poulenc , Schumann and Joseph Horovitz
December 11th: Scandinavian Idyll – Duncan plays piano music by Scandinavian composers: the Norwegian Grieg, the Finnish Sibelius and Palmgren, and the Danish Gade and Nielsen
February 12 2012: Celtic Horizons – Duncan Honeybourne explores piano music with a Celtic flavour, including the romantic, Irish-inflected Suite for Piano by Cork composer Aloys Fleischmann, and Scottish composer Alexander Mackenzie's Scenes from the Highlands. There is also a chance to hear Shropshire-based Richard Francis' Piano Sonata no.2 (Irish Memories), premiered in 2011 in Waterford, which recalls Irish folk music and includes a set of variations on an Irish hymn tune
March 18th: Music for Viola and Piano – Outstanding young viola player Emma Richards won the top viola prize at the Royal Northern College of Music in 2010. Today she joins Duncan Honeybourne for a sumptuous programme of music by Enescu and Brahms
April 22nd: Frederic Chopin: Slavic Passion and French Refinement – Duncan Honeybourne explores music by the most iconic and beloved of piano composers in an all-Chopin piano recital to close the series