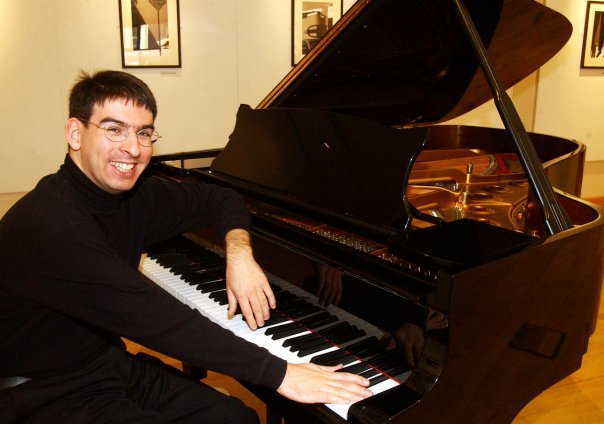 Full biography (501 words)

Download full biography
Duncan Honeybourne has established a rich and diverse career as a pianist and in music education. His playing has been commended for its "suave confidence" (International Piano), "terrific intensity and touches of panache" (International Record Review) and "delicate chemistry of touch and arm weight" (Gramophone). Fanfare magazine (USA) remarked: "Honeybourne's performance is simply beautiful, even in its most powerful and haunting moments."
He made his debut as soloist at Symphony Hall, Birmingham and the National Concert Hall, Dublin, in 1998, and gave debut recitals in London, Paris and at the Miry Concertzaal in Ghent, Belgium, during the international piano festival Gentse Vleugels. His 2-CD debut solo album was described by the Gramophone as "a set not to be missed by all lovers of English music", and received 4 stars in Musical Opinion and BBC Music Magazine, which reported: "There are gorgeous things here. Hard to imagine better performances."
Duncan has toured extensively as recitalist, concerto soloist and chamber musician in the UK, Ireland, France, Belgium and Switzerland, appearing at many major venues and leading festivals. His solo performances have been frequently broadcast on BBC Radio 3 (UK), RTÉ (Ireland), ABC Classic FM (Australia), SABC (South Africa), Radio Suisse Romande (Switzerland), and radio networks in Finland, New Zealand and the USA.
Several celebrated composers have dedicated new piano works to Duncan, including John Joubert, Sadie Harrison, the late Peter Reynolds and Andrew Downes, whose Piano Concerto he premiered at Birmingham Town Hall. His discography for EM Records, Divine Art and Forbury Records features a wide range of British and Irish piano and chamber music, including the complete piano music of Moeran, the complete violin/piano music of Parry, and premiere recordings of solo piano works by Walford Davies, Ivor Gurney and several neglected and contemporary composers. His solo discs have been selected as MusicWeb International Recording of the Year and CD of the Week on FMR Radio in South Africa.
Born in Dorset in 1977, Duncan gave his first London recital at 15 and his first BBC broadcast recital at 17. He won prizes at the Royal Academy of Music and the Birmingham Conservatoire, where he graduated with First Class Honours and later received the honorary award of HonBC for professional distinction. He also worked with John York and Dame Fanny Waterman, and was awarded a Goldenweiser Scholarship by the Sheepdrove Trust for three years further study in London with the Russian pianist Mikhail Kazakevich. He later studied the harpsichord with Virginia Black.
He is a Tutor in Piano at the University of Southampton and gives frequent masterclasses and lecture recitals. As an artistic director he has curated several series of piano and chamber concerts, and he has written for Classical Music and International Piano magazines as well as the Jewish Chronicle, The Times and the Birmingham Post. Duncan is also a frequent lecturer on his experience of life on the autism spectrum and, in 2012, was commissioned by the Manchester Camerata/Royal Exchange Theatre to make a series of short films on autism.


Short biography (126 words)

Download short biography
Since his debut as soloist at Symphony Hall, Birmingham, and the National Concert Hall, Dublin, in 1998, English pianist Duncan Honeybourne has established a distinguished and varied career as recitalist, concerto soloist, lecture recitalist, chamber music player and teacher. He has appeared at many major concert halls and at leading festivals, and has been a frequent broadcaster at home and abroad. One of his generation's leading exponents of 20th century English piano music, he is also the dedicatee of several major piano works by celebrated contemporary composers.
An inspiring teacher and educator, he has devised and written several recital programmes blending words and music and has created and directed several series of piano and chamber concerts. He is a Piano Tutor at the University of Southampton.