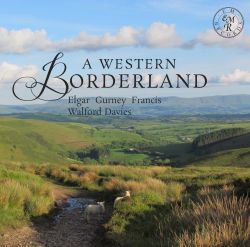 In premiere recordings, Duncan Honeybourne performs works by four composers associated with the border between England and Wales. The border counties – Gloucestershire, Worcestershire, Herefordshire and Shropshire – are rich in spiritual resonance, powerful historical imagery and a tangible sense of tranquility and apartness, which continues to appeal strongly to composers, writers and artists.
"It's fun to hear from Walford Davies in his student days, flamboyantly building up his 1890 Theme and Variations from a docile, hymn-like melody. Honeybourne treats his enterprising repertoire with respect and affection."
– BBC Music Magazine, 4 stars **** for performance and recording
"Honeybourne has given a wonderful, inspired account of all these pieces... a remarkable CD." – MusicWeb International
Duncan Honeybourne enjoys a colourful and unique career as solo pianist, chamber musician, educator and artistic director. He has appeared at many major concert halls and at leading festivals, and has been a frequent broadcaster at home and abroad. One of his generation's leading exponents of 20th century English piano music, several celebrated contemporary composers have also dedicated major new works to him.
An inspiring teacher and educator, he has devised and written several recital programmes blending words and music and has created and directed several series of piano and chamber concerts.
Duncan is also sought-after nationwide as a thought-provoking and entertaining lecturer on his experience of living with autism.